Independent
I
an Johnston
Environment Correspondent
@montaukian
Tuesday 30 May 2017
Nasa scientists discover existence of glacial waves, which move huge amounts of ice and water into the sea during periods of intense melting, by studying changes to the land surface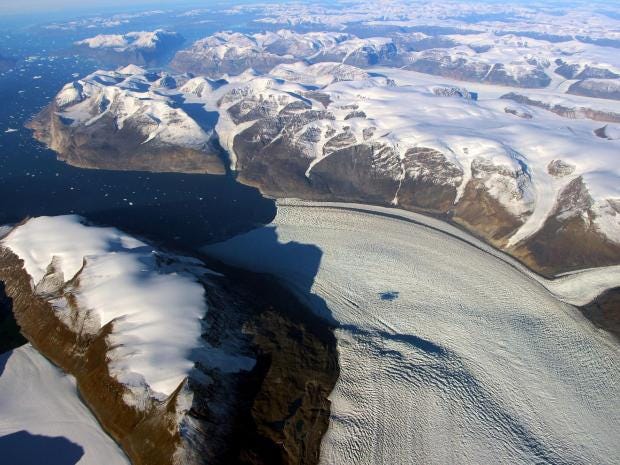 A meltwater lake can be seen on the Rink Glacier in western Greenland Nasa/OIB
Glaciers are melting so much that they are causing the Earth's crust to change shape.
And now scientists have used this effect to discover an alarming new phenomenon that is speeding up the rate at which ice is pouring into the sea.
A team of Nasa scientists used measurements of "solid Earth deformation" to study the Rink Glacier in Greenland as it melted rapidly in the hot summers of 2010 and 2012.
What they found was that the "intense" melting of ice produced a 'solitary wave' in the glacier that pushed it more quickly towards the sea, which Nasa likened to a "warmed freezer pop[sicle] sliding out of its plastic casing".
Writing in the journal Geophysical Research Letters, the scientists said "the wave through Rink Glacier is enormous in terms of its mass transport".
Traveling at up to 12km per month, the 2012 wave alone was responsible for moving 6.7 billion tons of ice into the sea – compared to the average annual total of about 11 billion tons in the early 2000s.
The scientists, from Nasa's Jet Propulsion Laboratory in Pasadena, California, said changes in the Earth's crust had not been used before to assess glaciers.
The research represented a "breakthrough" because it showed how powerful this technique was but also because it had revealed the wave effect, they said.


Miles of Antarctic Ice are Collapsing into the Sea

"The technique is effectively using the measurement of the deformed solid Earth elastic response as a filter that uniquely responds to neighbouring glacier mass changes," they said.
It is thought the wave began after meltwater cut channels through the glacier and drained down to the bottom.
In a statement
, Nasa said the exact process was unclear, but the current theory to explain why the glacier "moved so quickly" went something like this: "The huge volume of water lubricated the base of the glacier, allowing it to move more rapidly, and softened the side margins where the flowing glacier meets rock or stationary ice.
"These changes allowed the ice to slide downstream so fast that ice farther inland couldn't keep up."
One of the Nasa researchers, Dr Erik Ivins said solitary waves were likely to become a bigger factor in the future.
"Intense melting such as we saw in 2010 and 2012 is without precedent, but it represents the kind of behaviour that we might expect in the future in a warming climate," he said.
"We're seeing an evolving system."
10 photographs to show to anyone who doesn't believe in climate change
The changes in the Earth's crust were monitoring by more than 50 GPS stations on the bedrock in Greenland.
These are not currently being maintained by any agency and the Nasa team were carrying out the research partly to see if there was any reason to keep them.
"Boy, did we find one," Dr Ivins said.